Life & Work with Felix Pike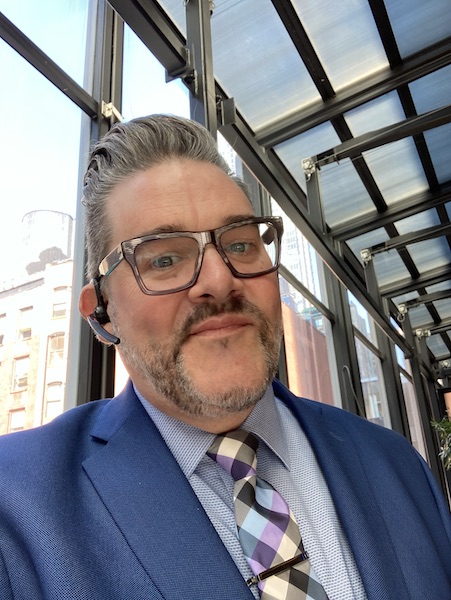 Voyage is an online magazine that interviews inspiring small business owners, entrepreneurs, artists creatives, and more from across South Florida. The company recently reached out to Felix Pike, owner and executive producer of The Full Pike, an event resources company based in Miami Beach. Check it out!
Today we'd like to introduce you to Felix Pike.
Hi Felix, so excited to have you with us today. What can you tell us about your story?
When I was a young man in Sydney, Australia, I completed my bachelor of arts degree at Sydney University, started a band with my brothers, and began an audio engineering diploma. My passion for live music and performance drove me to deejay, manage several bands and learn about production.
In 1996, I was introduced to an American woman who would become the love of my life and partner, Laura. She listened to me talk about my career dreams and pushed me to go further. The owner of an upscale three-level pub hired me in Sydney to book entertainment, including deejays and bands. I was also employed for the Sydney 2000 Olympics and Paralympics. This was when I realized I enjoyed the production side of music and events, and I wanted to take my career further.
Laura suggested we move from Sydney to Los Angeles so I could "run with the big dogs" of the event industry. I proposed to her and we wed in a courthouse in Sydney. Meanwhile, my new wife started immigration proceedings to the United States. We married on September 1, 2001, right before the September 11 attacks, and we were discouraged from moving. It was a crazy time! My new father-in-law offered to sponsor me and had to supply much personal documentation to make it happen. By May of the following year, I became a resident of the U.S.A. with a valid green card to work.
Once in Los Angeles, I started working in hotel audio-visual departments before landing a dream job as a high-end event producer. This is where I gleaned invaluable experience at the highest level in the production world. I worked on the Oscar After-Party, the celebrity-studded GM 10 automobile launch, and the Grammys.
I went from strength to strength, learning more about the production industry in fast-paced Los Angeles and beyond. Then, in 2005, I was contacted by a national audiovisual headhunter and offered a position as a technical director in Miami Beach. We moved to Miami Beach in 2005. For the next ten years, I worked for local production companies, honing my skills, keeping up with technological advancements in the industry, and nurturing contacts and professional relationships.
By 2015, I was ready to go out on my own. I was tired of long, stressful commutes and wanted to work independently. That June, I traveled with family to New Orleans and discussed starting my own company with my wife's cousins. We were walking around and stepped into a cafe. I was looking at postcards when one of them jumped out at me. It said, "Leap and the net will appear." Frank and I took that as a positive sign! And that's when I knew I must quit and go out on my own. It's been tough many times, especially during the pandemic, but now I'm busier than ever and have no regrets. I love working for myself!
Would you say it's been a smooth road, and if not what are some of the biggest challenges you've faced along the way?
There have been many challenges along the way! Being "green" and learning to qualify clients was a huge learning curve and I was burned a few times. I soon realized that not everyone in the business was ethical. I also had to grapple with the slow season, Miami's summer, while continuing to support us without a steady paycheck and constantly finding new clients and revenue sources.
The pandemic and lockdown debilitated the event industry. It was hard not to feel helpless when so many of my associates were out of work, selling their homes, moving away, or going out of business. I kept busy and conducted a live DJ event every Friday called the Sundown Sessions on Facebook. I had people following along every week, it was really a positive experience. I also was able to conduct over 50 corporate virtual events. This is how we were able to stick it out during the pandemic, and now I am busier than ever.
Thanks – so what else should our readers know about your work and what you're currently focused on?
I'm an event producer with various talents and skills that set me apart from others, and I have been working globally for over 25 years. Sometimes I will work as a project manager, where I'm in charge of all vendors and contractors working on an event. That includes caterers, audiovisual staff, riggers, designers, floral designers, loading in trucks, and more.
Other times, I'll be hired to design the stage and layout for the event. I also work as a show caller, stage manager, and announcer.
Like an orchestra conductor, the show caller is in the back of a ballroom leading the team and "calling" the show. I'm talking on a "comm" to direct the staff who run the lights, cameras, speakers/entertainment and cueing them. And because of my deep voice and Australian accent, I am often the announcer or "voice of God" for shows.
I liaise between client and team to create a turnkey event. I hire staff and work with the client in pre-production to make sure their event dreams are realized.
And finally, I'm known as "Fix-it Felix" because I'm adept at putting out fires and facing challenges. And in the events industry, there are ALWAYS challenges! I'm the one that holds the client's hand, takes a deep breath, and makes it all right.
What do you like and dislike about the city?
Likes:
Decisive people
Working with professionals who are responsible, reliable, and on time, and that I don't have to worry about.
Clients with realistic budgets to match their event ideals.
Working with valued professionals who bring the event to successful fruition from start to finish.
Working with a good team makes all the difference in execution.
Dislikes:
Time wasters and tire kickers
Clients that don't have a clear idea of budget or what they want
Unethical people
This article was originally published May 26, 2022 at VoyageMIA HERE.
To learn more about The Full Pike or get a quote please contact us HERE.